Paula Deen: Chef, Publisher, Author - Savannah, GA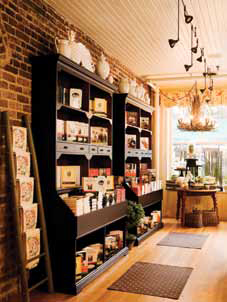 Put some south in your mouth, y'all," said the lady with the bouffant silver hair, perfect smile, dimples and a plumpness attributed to her "dee-licious" cooking. She's Paula Deen, an icon who has done more to attract tourists to Savannah than any woman in town.
She is a Food Network star, a restaurant and store owner, a bestselling author and a magazine publisher. She has cooked for world leaders and inspired millions during her appearances on Oprah's show. And she is a mother of two grown sons, the wife of a tugboat captain and a grandmother to one, with a second on the way. As down home as shrimp 'n grits and a native of Albany, Georgia, for all of her immeasurable success, she is still endearing, due in part to her good Southern upbringing.
If you take the Paula Deen Tour with Old Town Trolley, you will learn some surprising background trivia about this superstar. As a young beauty, she was a shapely brunette and a cheerleader. She walked-the-walk in beauty pageants, modeled and married her high school sweetheart, Jimmy Deen (no, not the sausage king). Soon she was a young mom with two strapping little boys. Alas, she and Mr. Deen were not destined to live happily ever after. The failure of her marriage, the death of her parents and other tragedies catapulted her into a prolonged battle with agoraphobia. Though she seems to be perpetually happy, she battled repeated attacks of intense anxiety and an abnormal fear of the unfamiliar.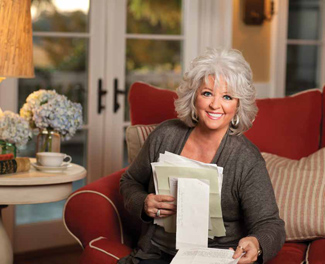 These trials changed the course of her life. In 1989, she became, by her own admission, "the bag lady." But she had grown up learning to cook, and she knew that was something she could fall back on. With a stash of $200, she began a home-based meal delivery service, starting with office lunches, in Savannah. With her young boys, Jamie and Bobby, running sandwiches, she went on to cooking at a Savannah Best Western. It was another five years before she was able to open her first restaurant, The Lady & Sons, which has become a landmark for Savannah tourists, with perennial lines of food fans waiting to sample Paula's now-famous cooking. In many cases, The Lady & Sons is their reason for visiting Savannah in the first place.
An American success story, Paula Deen is a sterling example for single mothers. She lives in a gracious, custom-built, waterfront home on an island outside Savannah with her current husband, Michael Groover. In 2004, the Food Network did a special on their colorful wedding. A bearded, salty character, he still works as a tugboat captain when he isn't traveling with Paula.
This dynamic lady has sold more than 8 million cookbooks, and her publishing success translated into similar success in the magazine world. Her bimonthly Cooking with Paula Deen has grown to a circulation of more than a million. All of her publications are available at her store adjacent to The Lady & Sons, as are her Paula Deen signature cookware, baking utensils, kitchen tools and accessories. She transformed a derelict space into a handsome retail outlet with polished hardwood floors, exposed brick walls and contemporary lighting. You might catch a book signing there, although the signer may just be her tall son, Jamie, who inherited her dimples and affable charm. He and his brother, Bobby, often make cameo appearances on their mother's cooking shows and sometimes offer low-calorie versions of the recipes, teasing her about her love of butter. No one teases her about her love for another one of her celebrity guests - Jamie's young son, her grandson Jack.
Jamie has been working on a pilot for his own show, "The Family Table," while Bobby, in addition to helping manage the Deen empire, co-authored three bestselling cookbooks: "The Deen Brothers Cookbook-Recipes from the Road"; "Y'all Come Eat"; and "Take It Easy." The Deen brothers also publish stand-alone magazines and special edition digital releases focused on tailgating, grilling and barbeque.
And, in 2006, Bobby was one of People magazine's 50 Most Eligible Bachelors.
Their celebrity mom now has two shows on The Food Network - "Paula's Best Dishes" and "Paula's Home Cooking." Since 2009, she has partnered with major corporations such as Wal-Mart (with an exclusive line of baked goods); Quality Food Brands; International Greeting and Cooking.com; and Smithfield Hams.
And if you want to make a pilgrimage to her newest restaurant, plug Harrah's Cherokee Casino & Hotel in Cherokee, North Carolina, into your GPS. In January 2011, she opened a full-service, 404-seat restaurant and retail shop there. Where does this 60-something marvel get her energy? I'll ask her if I can catch up with her.
A PAULA DEEN TOUR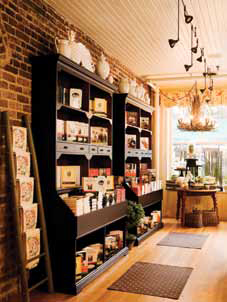 A Paula Deen tour is a delightful Savannah experience offered by Old Town Trolley (www.trolleytours.com/ Savannah). It includes a Lowcountry buffet at Uncle Bubba's Oyster House, and each person gets a "fast pass" (See below).
Would-be diners at The Lady & Sons, located in the Historic District, should be aware of the restaurant's reservation policy (See: http://ladyandsons.com/index.php/restaurant/reservations/). They should drop by the restaurant by 9:30 a.m. to put their name on the list for lunch or dinner. At the busy times of the year - spring, early fall and during festivals and events - the restaurant usually is booked for the day before noon. Fans who take a Paula Deen tour can use their "fast pass," which allows them to call to get their name on the reservation list. As long as they phone in before the hosts begin taking names for the day, they shouldn't have any problems. The restaurant has an a la carte menu, but most people prefer the Southern-style buffet.